POST CHRISTMAS AND NEARLY ON THE EVE OF NEW YEAR-I FEEL IT FITTING TO WRITE BLOG
UPDATE THE WORLD ON WHATS BEEN GOING ON!!ESPECIALLY AS IM ON A HYPE FLEX AFTER DRIVING HOME FROM THE CINEMA LISTENING TO J-M-E AND KANO-DIDNT REALISE I KNEW ALL THE WORDS TO "SHUT UP AND DANCE" HAVENT LISTEN TO GRIME IN TIIIME!
MOVING SWIFTLY ON-LIKE THE CHRISTMAS HOLIDAYS!IM USED TO LIKE 2-3WEEKS OFF AS IVE BEEN AN ETERNAL STUDENT-BUT THE REAL WORLD GAVE ME ALL OF 2 DAYS!!!AS THE WEEKEND DONT REALLY COUNT
GOT TO WORK SO UPSET I COULDNT EVEN TALK-I WAS ACTUALLY "VEX" [WE SAVE THAT WORD FOR WHEN WE REALLY MEAN IT LIKE-THE BLACK WOMAN WAS "VEX" WHEN SOME MAN THRU UP ON HER ON THE TRAIN----AND---IN HER BAG!!!!
DEEEEEEEEP I KNOW-I HAD DISGUSTED FACE ALL THE WAY HOME!!
OH BACK TO CHRISTMAS-I WAS SO TIRED WHEN IT FINALLY COME TO CHRISTMAS DAY!! AFTER WRAPPING PRESENTS TILL 4.30AM AND CLOCKING UP 200MILES ON MY NEW CAR IN UNDER 5DAYS-AND DROPPING PRESNTS OFF TO EVERY CORNER OF LONDON. I JUST WANTED TO SLEEP
BUT I GOT WICKED PRESENTS...I GOT A NINTENDO DS-BOOP BOOP
ITS SO WICKED-I FINISHED WORLD ONE ONE THE TRAIN TO HAMMERSMITH-BUT GETTING KINDA STUCK NOW-BUT!! U CAN GO ON THE INTERENT ON IT SO I BEEN CHECKIN MY MYSPACE AND ALL SORTS-IM QUICKLY FALLING IN LOVE WITH HER
OH I GOT MYSELF A NEW CAR-SO BUFF-THATS ALL I HAVE TO SAY
AND I GOT SOME GRILLS-OH YEAAAH---GHETTO FAB--BLING CHING[MADE THAT UP-BUT LIKE IT]----IN THE WORDS OF MY DAD-"FLAVOR FLAV"--MY MUM HAAATES THEM-TOLD ME MY TEETH WILL GO GREEN AND FALL OUT
WHEREAS MY DAD LOVES THEM HES LIKE "BUT THEY JUST LIKE AN ACCESSORY"
--IM LIKE GWAN DAD-MAKING POSITIVE POINTS IN MY DEFENCE-YES MUM A-C-C-E-SO-R-Y!! LIKE GOLD EARRINGS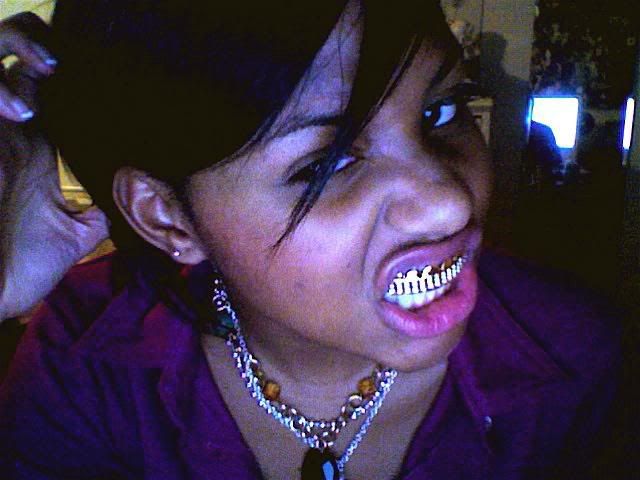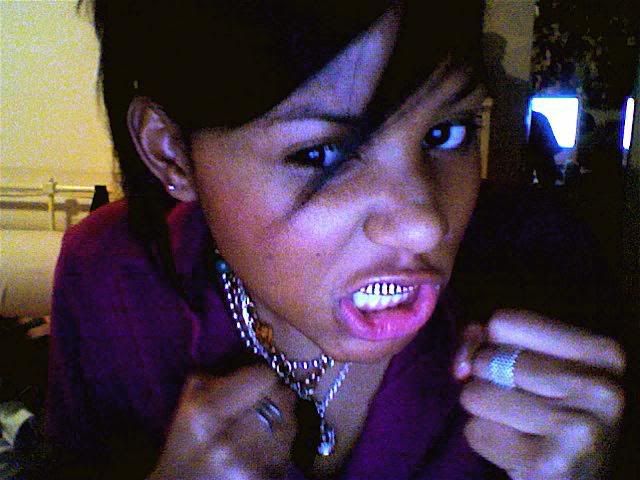 SHE WAS CARRYING ON LIKE I HAD GOT MY HEAD TATTOOED-LIKE KELIS WORE THEM SO THEY CANT BE THAT BAD
[OH AND I WAS WEARING THEM AT WORK-I WORK IN A BANK-HA. MY WORK COLLEGUES HAD NEVER SEEN OR HEARD OF THEM BEFORE SO WERE BOTH CONFUSED AND DISTRUBED-THEY WOULDNT BE SO IGNORANT IF THEY HAD MTV BASE!]
ANYWAY JUST WENT AND WATCHED DEJA POO-I BELIEVE THAT IN REAL LIFE DENZEL IS ACTUALLY A DETECTIVE-A PASSIONAITE ONE---BECAUSE HE PLAYS THAT CHARACTER IN EVERY BLOODY MOVIE-DEJA VU-MAN ON FIRE-INSIDE MAN-BONE COLLECTOR-TO NAME A FEW-I WANNA SEE HIM AS A CRACK ADDICT-OR A MALNIPULATING PSYCHO KILLER! THE THING IS I KNOW HE GETS THE CHANCE TO SAY GOODBYE TO HIS NARROW TYPE CASTING-LIKE HE WAS ASKED TO PLAY MARVIN GAYE[BIG ROLE I MUST ADMIT] BUT HE JUST WET HIS PANTS AND SAID NO-CAUSE HE WAS TOO OLD-BLAR BLAR BLAR--ANY EXCUSE. HE NEEDS A ROLE WHERE HE GETS SHOT AND HE KEEPS RUNNING AND HES REASONING WITH THE KILLER WITH HIS GUN IN THE AIR-
COME ON!!!!!I DONT KNOW WHAT IM BANGING ON ABOUT NOW-PHOTOS WILL BE ADDED TOMMOROW
NIGHTNIGHT.XX